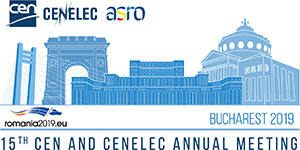 Acting General Director of FGUP "STANDARTINFORM" V. Vitushkin in the delegation of Rosstandart took part in a meeting with representatives of the European Committee for standardization (CEN) and the European Committee for standardization in the field of electrical engineering (CENELEC), organized in the framework of the 15th annual General Assembly of CEN – CENELEC.
The meeting was on the 5th of June.
The parties discussed cooperation in the field of standardization. Special attention was paid to the Agreement between Rosstandart and CEN – CENELEC, signed in 2013. the Document provides for cooperation in the development of standards, promotion of international standardization and mutual application of standards, as well as exchange of experience.
The Russian delegation was headed by the Head of Rosstandart Alexey Abramov.
CEN/CENELEC was represented by: Christoph Winterhalter, Vice-President for policy of the European Committee for standardization (CEN), Bogdan Topic, President of the Slovenian standards Institute (SIST), Ashok Ganesh, Director for innovation and market development of CEN-CENELEC, and Elizabeth Stampfl-Blaha, Managing Director of the Austrian standards Institute.
At the General meeting of the General Assembly the CEN – CENELEC implemented the ability to report and discuss key strategic, political and technical issues relating to European standardization.